Who Has Coax? - K8TGR does
---
Date Posted: 02/13/2017 08:36:51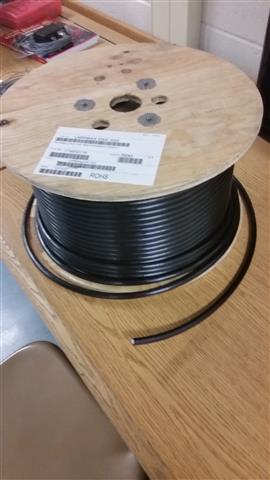 We were desperate for feed lines and patch cords, so we ordered a 500ft spool of coax and made our own.

The club needed some coax patch cords and feed lines for our antennas. We have been relying on our friends at K8TKA (20Over9) for these things, but it was time that the club started building their own inventory.

The best way to do this (and the most cost effective) was to get the cable and make our own.

We ordered a 500ft spool of coax, the ends, and a new crimp tool kit. We got all of the cable cut to length and put on the ends, then onto the fun part, soldiering.

The club now has enough cabling to get through the rest of the year and hopefully a few more years as well.
Want to join us?
The Newton Falls Technology and Multimedia Club and K8TGR is open to all Newton Falls students grades 6-12
You are welcome to join us at any time, all you have to do is stop by one of our meetings.
The club meets every Tuesday night (unless cancelled or not a school day) in either Mrs. Donley's room at the High School room 306, or in the K8TGR Ham Shack. If we more locations we will make an announcement.
If you have any questions or comments, please e-mail Mr. Donley at sdonley@nfschools.org or the club e-mail at nfhstmc@nfschools.org