Electricity Presentation
---
Date Posted: 01/10/2017 08:16:17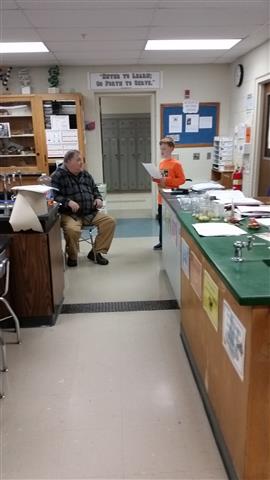 During our club meeting/study session on January 10, 2016, B Mekker did a presentation on electricity.

This is one of the harder topics for the kids, but Mekker pulled it off by going over the formulas and math involved, as well as, the different types of components and circuits.

We asked the students to pick one of the topics and do a presentation on it for the group. The idea behind this is, "if you become the teacher of a topic, you need to research, study, and become and expert."

Great job Mekker.
Want to join us?
The Newton Falls Technology and Multimedia Club and K8TGR is open to all Newton Falls students grades 6-12
You are welcome to join us at any time, all you have to do is stop by one of our meetings.
The club meets every Tuesday night (unless cancelled or not a school day) in either Mrs. Donley's room at the High School room 306, or in the K8TGR Ham Shack. If we more locations we will make an announcement.
If you have any questions or comments, please e-mail Mr. Donley at sdonley@nfschools.org or the club e-mail at nfhstmc@nfschools.org
K8TGR - And NFHSTMC is a school sponsored club of
Newton Falls Exempted Village Schools